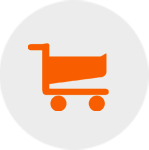 Order Now
Travel, Talk, Save!
NEX TravelSIM is a seamless callback service. You dial an international number from your phone as usual. NEX TravelSIM picks up your call, connects it to the number you dialed and calls you back, connecting the two ends of the line. This ensures that the call travels exclusively through our partner networks, generating the up to 85% savings and ensures superior sound quality to boot, no matter where you are. Simple.
You can call to any country at a flat rate that depends only on the country of your stay! For example, if you are traveling trough Germany, you pay nothing for incoming calls and only 0,35€ per minute for all outgoing calls. It does not matter where you call: to USA, Australia, Germany... or your home country, or anywhere else in the world. There is also special rate for outgoing calls to other NEX TravelSim numbers 'Network Calls' in the countries with free incoming calls, so that You can stay in touch with your friends no metter where they are for only 0,19€ per minute.
NEX TravelSIM will save you up to 85% on all outgoing calls while abroad. Incoming calls are FREE in over 140 countries. NEX TravelSIM is a prepaid GSM SIM card. Unlike your local mobile phone operator card, NEX TravelSIM is made for use around the world in over 190 countries. Prepaid means you have complete control over costs with no nasty bills waiting in the mailbox when you get home. NEX TravelSIM does not 'age'. This means that there are no maintenance fees and in case you use the NEX TravelSIM card at least once every two years, all your money will still be there.